When to see a Thyroid Specialist?
Thyroid doctors can create a treatment plan tailored to your specific thyroid issue. You may be sent to a specialist for specialized therapy due to the thyroid's critical function in controlling many physiological organs. Meet our thyroid specialist,

Dr. Ruben Valdes

at The Thyroid Place. For more information and guidance,

contact us

now or

book an appointment

today. We are located at

3101 Maguire Blvd Suite 101, Orlando FL 32803

.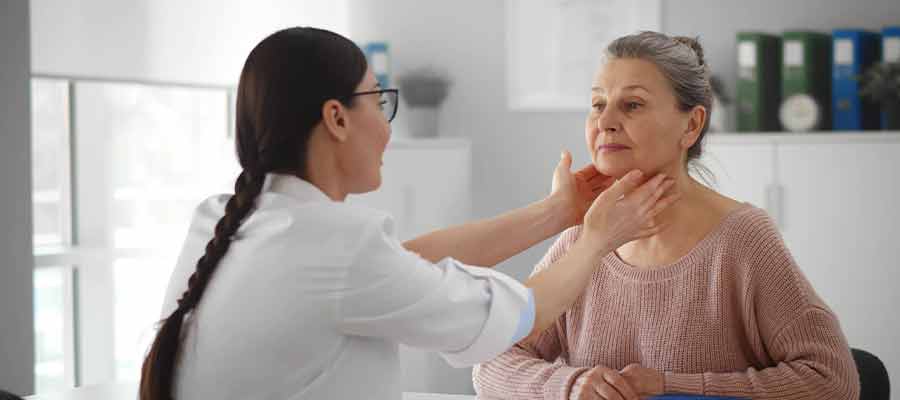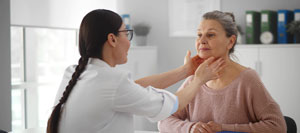 Table of Contents:
What are the early warning signs of thyroid problems?

The thyroid, a gland resembling a butterfly located in the neck, plays a crucial role in producing and regulating certain hormones essential for our body's well-being.

Any imbalance in hormone production, whether it's an excess or deficiency, is classified as a thyroid disorder. A properly functioning thyroid is pivotal as it controls all our bodily functions. When your thyroid is not performing optimally, you'll quickly observe warning signs.

Thyroid disorders come in various forms, with hyperthyroidism, hypothyroidism, thyroiditis, and Hashimoto's thyroiditis being the four primary types. Various factors, such as illness, damage, or medication side effects, can affect the performance of your thyroid gland and hormone production.

Depending on whether your thyroid is underactive or overactive, the symptoms you experience will differ. An underactive thyroid tends to slow down your overall bodily functions, resulting in symptoms like fatigue, weight gain, and difficulty regulating body temperature.

Occasionally, these symptoms are accompanied by mood swings and depression. Conversely, an overactive thyroid leads to symptoms such as rapid weight loss, restlessness, abnormal blood pressure, and irregular heartbeat. Individuals with hyperthyroidism often experience anxiety, excessive sweating, and more.

Diagnosing thyroid issues can be challenging, as the symptoms can mimic other health conditions like menopause or cognitive problems. To receive a definitive diagnosis, it's crucial to consult specialists, such as those at The Thyroid Place.
What to expect when seeing a thyroid specialist?

When you're experiencing symptoms that may be linked to your thyroid, it's crucial to schedule an appointment with a thyroid specialist to initiate the process of accurate diagnosis.

The initial step taken by the thyroid specialist involves posing diagnostic inquiries aimed at comprehending your medical history and confirming whether the thyroid is causing the problems necessitating treatment.

After the diagnostic questions, the specialist will delve into a discussion regarding the symptoms you may be encountering due to your thyroid-related issue. Various diagnostic assessments, including tests for blood pressure and heart rate, may also be administered. Additionally, blood tests and noninvasive scans could be employed.

Following these examinations, the specialist will proceed to devise a tailored treatment plan crafted specifically for your thyroid condition. In most instances, thyroid disorders are effectively managed through medication. However, the specific treatment hinges on the underlying cause of your thyroid disorder. The treatment regimen for thyroid disease is contingent on the particular type of disorder you are dealing with. For instance, the approach for an overactive thyroid would differ from that of an underactive thyroid.

The Thyroid Place offers a spectrum of treatments encompassing hypothyroidism reversal, functional and integrative medicine, facilitated weight loss, FDA-approved laser therapy (LLLT), low-level laser therapy, functional medicine, and thyroid nodule management. Health coaching, hair growth treatments, thyroiditis care, and more, are also utilized as needed.

Collaborating closely with each patient as a unique individual, a thyroid specialist devises a treatment strategy that not only addresses the root cause of thyroid problems but also focuses on holistic care, addressing the individual as a whole and not merely the symptoms.
Should I see a specialist for thyroid?

While thyroid disease can often be identified through a straightforward blood test, your initial diagnosis is typically conducted by your primary care provider.

Nevertheless, due to the thyroid's pivotal role in regulating various bodily organs, you may be referred to a specialist for specialized treatment. It is highly recommended to seek the expertise of a thyroid specialist in specific situations, such as during pregnancy, when dealing with a thyroid nodule or an enlarged gland, or when hypothyroidism involves the pituitary gland.

If you've been on front-line treatments like medication for an extended period but continue to experience persistent symptoms, consulting a specialist is a prudent step.

Additionally, if you have a lump, nodule, or any growth on your thyroid, it's imperative to have a specialist evaluate it. Regardless of your medical history or the specific symptoms related to your thyroid issue, it is generally advisable to consult a specialist upon your initial diagnosis of hypothyroidism. This allows for a thorough review of your condition, and test results, and the development of a tailored treatment plan.

Thyroid specialists are available at The Thyroid Place. For more information and guidance, contact us now or book an appointment today. We are located at 3101 Maguire Blvd Suite 101, Orlando FL 32803. We are serving clients from Orlando, FL, Winter Park FL, Fairview Shores FL, Edgewood FL, and surrounding areas! We look forward to partnering with you on your health journey.